Atlantic Highlands Borough Hall
100 First Avenue, Atlantic Highlands, NJ 07716
Phone (732) 291-1444
Fax (732) 291-9725
---
BAYSHORE / HENRY HUDSON TRAIL UPDATE
All bridges have been installed and the curbing on the bridges will be installed over the next few weeks. Stone base will be managed and then the blacktop will be installed. Clean up afterwards. The target for completion is the last week of September which depends on weather.
News & Announcements

---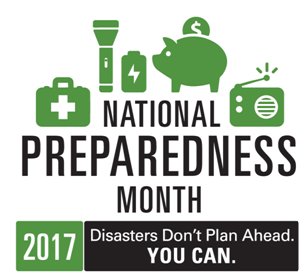 A Message from the Mayor
National Preparedness Month
As the news broadcasts continue to remind us, hurricane season is well underway and continues through November. FEMA has designated September as National Preparedness Month. While I don't wish to scare anyone, I do believe now is a good time to review plans with your family, so that you are all prepared for a variety of scenarios. Click below for more information
Beach Sweeps (pdf)
Saturday, October 21, 2017, 9am - 12:30pm, Volunteers Needed at over 70 Beaches in New Jersey!
FALL GARAGE SALE
BOROUGH WIDE FALL GARAGE SALE SATURDAY OCTOBER 7TH
THE BOROUGH OF ATLANTIC HIGHLANDS NEEDS YOU!
Are you interested in getting more involved with what goes on in Atlantic Highlands? Vacancies have recently occurred on several committees and Boards in addition to the positions the Mayor appoints each year in January. Your input and participation are needed for: Rent Control Board, Shade Tree Commission, Environmental Commission, Planning Board, Harbor Commission, Recreation Committee, Beautification Committee. If interested complete the Citizen Leadership Volunteer Application form.
Council Meeting Recordings now online.
Can't make it to a Council Meeting? Now you can listen to the audio recordings online. Go to: http://ecode360.com/documents/pub/AT0153/Minutes/?subCategory=Council+Meeting+Recordings.
Choose the recording date you want to listen to and open the file. Click on the little green arrow that says Start Recording.
It's just like being in the audience!
Property Pilot
Atlantic Highlands has contracted with PropertyPilot, a Hoboken, NJ based company to provide a public-facing geographic information system (GIS) that will be able to be accessed directly through a link on the municipal website.

<!- box:2014box1 -->

About Atlantic Highlands

» Directory

» History

» Maps & Directions

» Newsletters

» Schools

<!- box:2014box1 -->

Administration

» Mayor & Borough Council

» Frequently Asked Questions

» Minutes & Agendas

» Buget Information

» Council Login

<!- box:2014box4 -->
<!- box:2014box1 -->

Departments

» Affordable Housing

» Atlantic Highlands First Aid

» Building Department

» Business Administrator

» Clean Communities

» Code Enforcement

» Emergency Management [OEM]

» Environmental Commission

» Finance Department

» Fire

» Fire Marshall Office

» Harbor

» Health

» Inspections

» Library

» Municipal Clerk

» Municipal Court

» Planning Board

» Police

» Public Works

» Records Bureau

» Recreation

» Recycling

» Shade Tree Commission

» Social Services

» Special Events Committee

» Tax Assessor

» Tax Collector

» Vital Statistics

» Voter Registration

» Water and Sewer

» Zoning Office